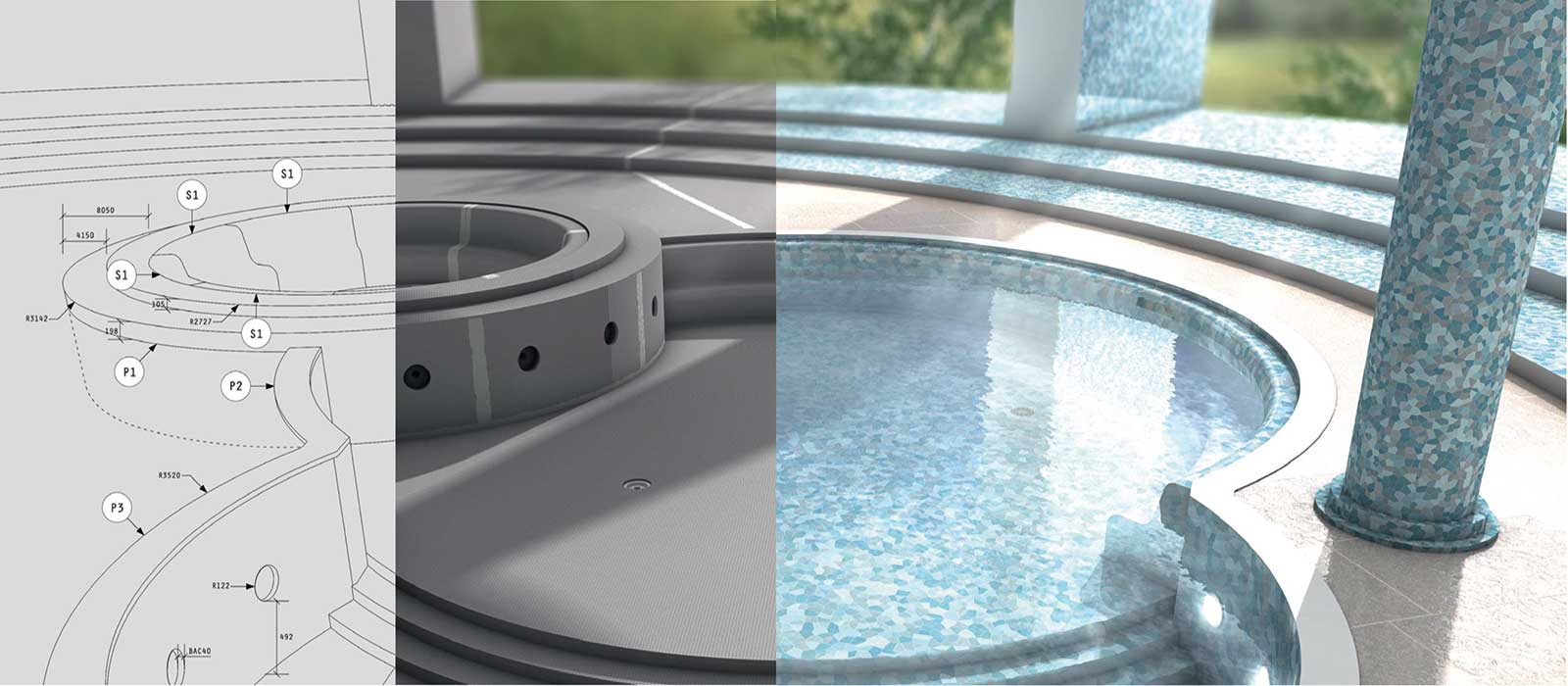 Bespoke
Architects, planners and tilers alike benefit from the design freedom of wedi's precision engineered waterproof construction elements. Whilst wedi is already well known for its innovative solutions for showers and bathrooms, the manufacturer is able to handle the increased product and project requirements in the realisation of spa, leisure and wellness facilities and supports planners, investors and installers in every phase of the project: from planning and manufacturing, through logistics and delivery, to the construction phase and commissioning on site.
From steam rooms to communal shower areas, footbaths to whirlpools and swimming pools, every detail can be designed exactly to the client's requirements. For example, milled recesses for cables can be incorporated into the individual modules and lighting or sound technology can also be integrated during the manufacturing process. Each product is checked thoroughly during production as well as during quality control. In addition to this, all tailor-made systems are built and tested in the wedi factory before dispatch, to ensure that everything will fit and function precisely on site.
wedi also offers a wide range of coatings for their wellness and spa elements: these coatings are ideally suited as a support for tiles and decorative plaster inside and outside of steam cabins for example and steam-resistant epoxy resin decorative coatings for roofs as well as a wide variety of surface and colour options which can be applied in the factory.
Whatever your project is the dedicated wedi technical support team is only ever a phonecall away.
Compare Products
You have no items to compare.
New Products
wedi Subliner Dry sealing membrane 30m x 1m

The universal wedi 320 thin-bed mortar based on a hydraulic binding agent is ideal for fixing and laying wedi building boards as well as wall and floor tiles in interior as well as external areas. It is waterproof and frost-resistant and available in a 25kg bag. Consumption 4 x 4mm grooves: ca 1.3kg/m2 6 x 6mm grooves: ca 2.2kg/m2 8 x 8mm grooves: ca 2.8kg/m2 * guideline only will depend on individual usage*

Learn More